Dryer Repair in Winnipeg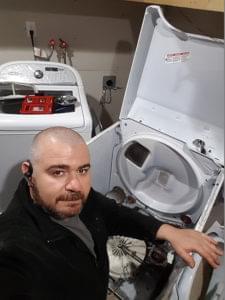 Same Day Dryer Repair Service in Winnipeg and the surrounding areas
Once your laundry has made its way through the wash cycle, the only thing left to do, before ironing and packing away, is drying. Without a dryer, this process can take several days, and it can mean that you have to wait extended periods of time for your favorite outfit to be ready to wear. When your dryer needs repairs, time is certainly one of the most important factors. At Max Appliance Repair, we provide same day dryer repair service throughout Winnipeg and the surrounding areas which means that you will get to use your dryer again before you know it.
Why Choose Us For Dryer Repairs
Max Appliance Repair technicians have the necessary qualifications and experience required to perform professional, reliable dryer repairs.
Our team is available for same day repairs and we also always arrive prepared with the right tools and various parts. Our goal is to complete repairs during our first visit.
Your satisfaction is our number one priority. In order to keep all of our customers happy, we focus on providing fast, professional, and affordable appliance repair services.
When you need fast dryer repairs by prompt professionals, look no further than Max Appliance Repair. Our team of technicians is experienced in working on all brands of dryers, and we always pay attention to the finer details when performing any dryer repair.
Dryer Repair Experts You Can Trust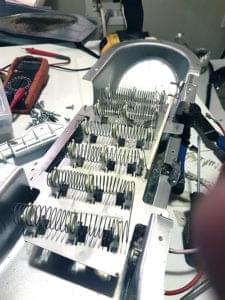 Our family-owned appliance repair company takes great pride in offering reliable dryer repair services. We understand the value and importance of every household appliance and how important it is to find a repair technician you can trust. Not only do we perform quality work, but we also stand by our repairs through our 100% satisfaction guarantee
Winnipeg Dryer Repairs
When your dryer stops working or when you notice any faults in the way it functions, it's time to call Max Appliance Repair. Our technicians are available throughout Winnipeg and the surrounding areas for your convenience, and we always come prepared to diagnose and repair broken dryers during our first visit.
Experienced Dryer Repair Professionals
Dryers have become even more advanced and reliable over the years. That said, they still require repairs at some point. The regular wear and tear takes its toll on various parts of this appliance, and it's understandable for these parts to require replacement eventually. Whether the problem appears to be minor or serious, it's important to call a professional technician right away.
Most Common Dryer Problems
There are a number of problems that could impact your dryer's performance. You can attempt to avoid issues with regular maintenance, like cleaning your dryer and emptying your lint trap. That being said, it is sometimes difficult to avoid problems with your dryer, like:
The machine is not turning on
It is not getting warm after starting a cycle
It is not spinning after starting a cycle
It is making strange noises or is too noisy
It is getting too hot during a cycle
Has a bad smell
Dryer is vibrating too much
Dryer won't heat up
Dryer doesn't properly dry clothes
Dryer doesn't complete a cycle
Call Our Dryer Experts Today (204) 202-6957
Dryer Bands We Repair
We have worked with many different types of dryer brands over the years. We encourage you to get in touch with our technicians if you need repairs for any of the following dryer brands:
We Repair Appliances All Across Winnipeg
Our same day service all across Winnipeg means that you don't need to deal with long wait times or high prices.
Neighborhoods in Winnipeg We Serve
Agassiz
Alpine Place
Amber Trails
Archwood
Armstrong Point
Assiniboia
Beaumont
Betsworth
Birchwood
Booth
Bridgwater
Broadway
Brockville
Brooklands
Bruce Park
Buchanan
Buffalo
Burrows
Canterbury Park
Central River Heights
Central St. Boniface
Chalmers
Charleswood
Chevrier
Cloutier Drive
Colony
Crescentwood
Crestview
Dakota Crossing
Daniel McIntyre
Deer Lodge
Downtown
Dufferin
Dufresne
Dugald
Eaglemere
Earl Grey
East Elmwood
Ebby - Wentworth
Edgeland
Elm Park
Elmhurst
Eric Coy
Exchange District
Fairfield Park
Forks
Fort Garry
Fort Richmond
Fort Rouge
Fraipont
Garden City
Glendale
Glenelm
Glenwood
Grant Park
Grassie
Griffin
Heritage Park
Holden
Inkster
Island Lakes
J.B. Mitchell
Jameswood
Jefferson
Keewatin
Kensington
Kern Park
Kil-cona Park
Kildare - Redonda
Kildonan
King Edward
Kingston Crescent
Kirkfield
La Barriere
Lavalee
Legislature
Leila - McPhillips Triangle
Linden Ridge
Linden Woods
Logan - C.P.R
Lord Roberts
Lord Selkirk Park
Luxton
Maginot
Mandalay West
Maple Grove Park
Maples
Margaret Park
Marlton
Mathers
Maybank
McLeod Industrial
McMillan
Meadowood
Meadows
Melrose
Minnetonka
Mint
Minto
Mission Gardens
Mission Industrial
Montcalm
Munroe
Murray Industrial Park
Mynarski
Niakwa
Norberry
Normand Park
North End
North Point Douglas
North River Heights
North St. Boniface
North Transcona Yards
Norwood East
Oak Point Highway
Omand's Creek Industrial
Osborne Village
Pacific Industrial
Parc La Salle
Parker
Peguis
Pembina Strip
Perrault
Point Douglas
Point Road
Polo Park
Portage - Ellice
Prairie Pointe
Pulberry
Radisson
Regent
Richmond Lakes
Ridgedale
Ridgewood South
River Heights
Riverbend
Rivergrove
Riverview
Robertson
Roblin Park
Rockwood
Roslyn
Rossmere
Royalwood
Sage Creek
Sargent Park
Saskatchewan North
Seven Oaks
Shaughnessy Park
Silver Heights
Sir John Franklin
South Point Douglas
South Pointe
South Portage
South River Heights
Southboine
Southdale
Southland Park
Spence
Springfield North
St Boniface
St James
St Vital
St. Boniface
St. Boniface Industrial Park
St. George
St. John's
St. Matthews
St. Norbert – Seine River
St. Vital
Stock Yards
Sturgeon Creek
Symington Yards
Talbot - Grey
Templeton - Sinclair
Tissot
Transcona
Trappistes
Turnbull Drive
Tuxedo
Tyndall Park
Tyne-Tees
University
Valhalla
Valley Gardens
Varennes
Varsity View
Vialoux
Victoria
Vista
Waverley
Wellington Crescent
West Alexander
West Broadway
West End
West Perimeter South
West Wolseley
Westdale
Weston
Westwood
Whyte Ridge
Wildwood
Wilkes South
William Whyte
Windsor Park
Wolseley
Woodhaven
Worthington
Dryer Repair Questions
When you notice any problem with your dryer, prompt action is the best solution. Of course, when faced with this situation, you are bound to have several questions. Here are a few common questions related to dryer repairs: